Course Improvements Project
Course Improvements
The course renovation, which was carried out between 2019 and 2022, was divided in to three phases. The first, in 2019, in which improvements to the putting green and chipping area were made; the second, in 2020, in which improvements were made to the back nine; and a third, in 2021, where improvements to the first nine were made.
With an investment exceeding 3.5 million Euros, improvements have been made to all the structural elements of the course; the irrigation system, the drainage network, pathways, bunkers and all the grass areas of the course.
At the design level, very few changes have been made. Basically, new tee off areas, and the movement and replanting of trees that were essential to the course maintenance.
The main objective behind the improvements to the irrigation system was to take what we already had up to a next level by reducing the amount of water used and creating a more environmentally sustainable system. To achieve this, essential changes to the hydraulic network, control and sprinkler systems were necessary.
Other factors that have allowed us to achieve this goal have been:
Redesigning the irrigation system to cover the playing surface and avoid irrigating the areas of the course that were not essential and add no value.
The installation of a weather station that accurately predicts the necessity for plant irrigation thus reducing water wastage
Individual control system for each sprinkler allowing for zone controlled irrigation
In numbers, the improvements to the irrigation systems used 31.373 metres of pipeline of differing diameters and the installation of 1.356 sprinklers.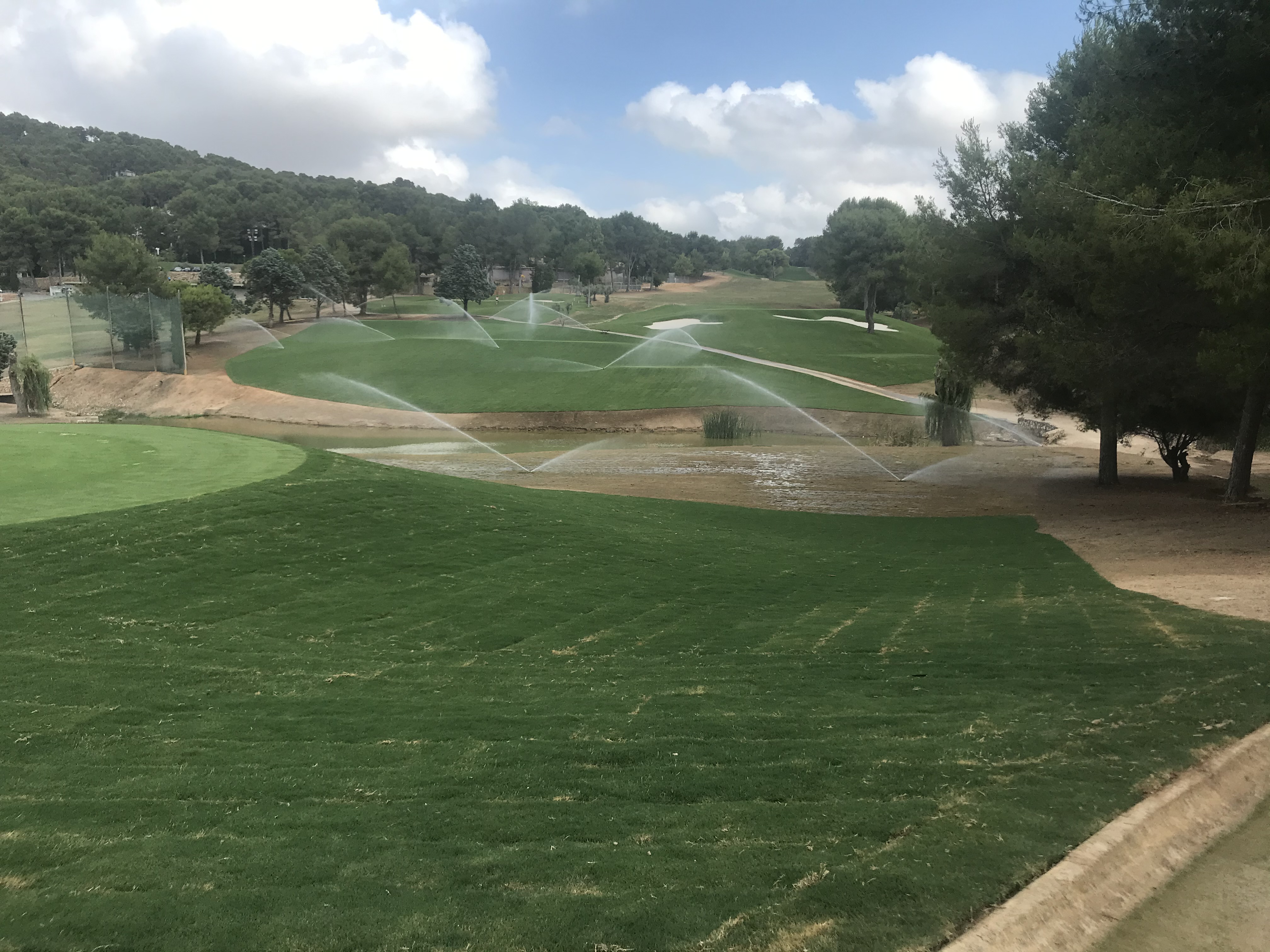 All the bunkers surrounding the greens have been improved using the innovative Better Billy Bunker system. This improved system greatly increases the drainage capacity of the surface of the bunkers, permits the water to pass through the stone at an increased rate, allows the silica sand to be kept clean and free from contamination and prevents damage from running water after heavy rainfalls. With this improved bunker system, the quality and playability of the bunkers is always to a high standard and regular.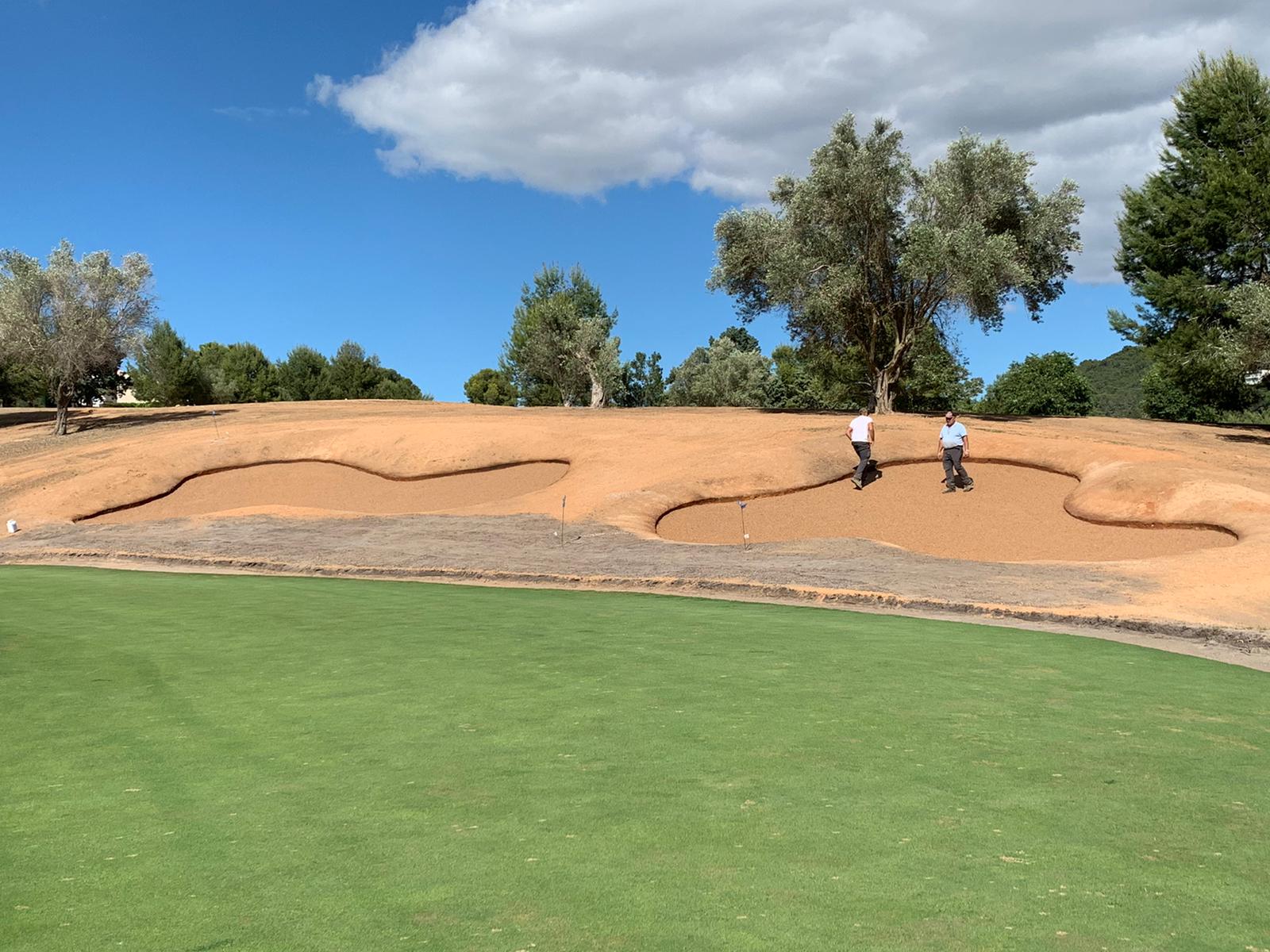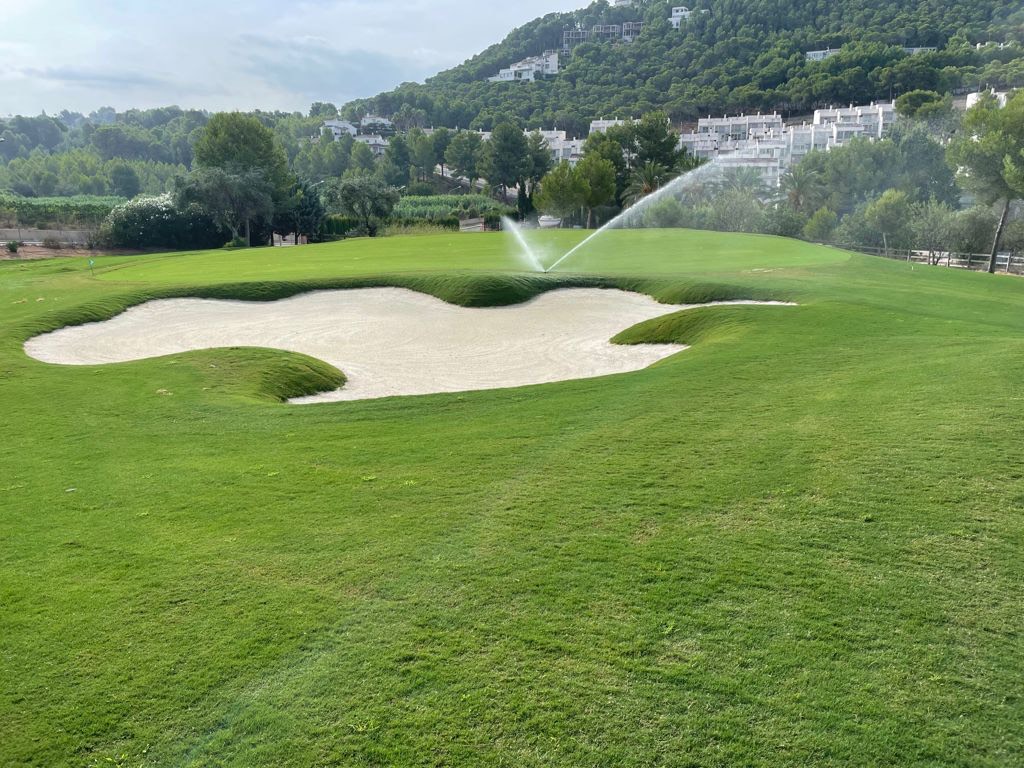 Replacement of the Grass
The entire playing surface has been replaced. We have opted for Bermuda Tifway 419 for the fairways and rough, Tahoma 31 for the tees and Agrostis Tyee for the greens and fringes.
The varieties of grasses used are in conjunction with keeping to a more sustainable lawn management, requiring less water for irrigation and reducing the use of fungicides y phytosanitary products.
The work carried out included the laying of 95.000m2 of sod, and the panting of cuttings in an area of 250.000m2.
Pathways
We have also taken advantage by making vast improvements to all the pathways on the course including reorientation and making them visually more appealing.
Pathways provide a great deal of comfort to the player and with the improved construction techniques now available our pathways certainly make a difference.